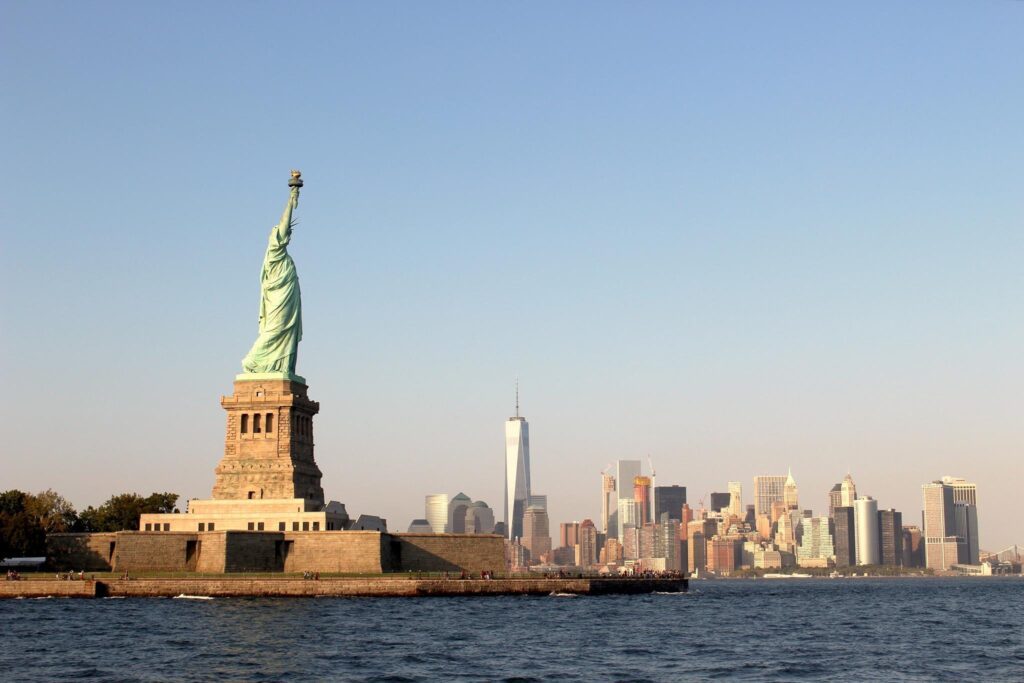 Venturing into the world of Immigration Law in New York is akin to navigating an intricate maze. The legal landscape is not only complex but ever-changing, with regulations shifting and cases taking turns you might not anticipate. Your primary defense in this daunting process is enlisting the support of a knowledgeable Immigration Attorney in New York. With the right legal counsel, your immigration journey transforms from overwhelming to confidently navigable.
When confronting immigration issues, it's crucial to comprehend what type of case you're dealing with. At Jimenez Mazzitelli Mordes, we handle a broad array of immigration cases:
Family-Based Immigration
Are you a U.S. citizen or a permanent resident wishing to bring family members into the country? You'll require an Immigration Attorney in New York proficient in family-based immigration laws. This includes:
Family preference visas

Immediate relative visas

K-visas for fiancées and spouses

Employment-Based Immigration
If you're an employer seeking international workers, or a foreign national seeking U.S. employment, an attorney experienced in employment-based immigration is critical. Services include:
H-1B, L-1, and E-1/2 visas

Labor certification applications

Employment-based green cards
Asylum and Refuge
If you're seeking refuge in the U.S. due to persecution in your home country, a lawyer skilled in asylum law can guide you through this intricate process.
Deportation Defense
If you're facing deportation or removal proceedings, a New York Immigration Lawyer can help explore all possible defenses. Key defenses can include:
Cancellation of removal

Adjustment of status
Don't wait another day to ensure you have the best legal representation possible. Learn more about how the knowledgeable team at Jimenez Mazzitelli Mordes can guide and support you through your immigration journey. We're ready and eager to turn your American Dream into reality.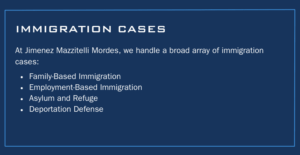 Choosing the Right Immigration Attorney in New York
At Jimenez Mazzitelli Mordes, we acknowledge the immense significance of this choice. There are several critical factors to bear in mind when selecting an attorney:
Experience and Expertise: You want an experienced New York Immigration Lawyer. They should have:
A profound understanding of immigration laws

A track record of successfully handling cases similar to yours
Communication Skills: Robust, clear, and timely communication is crucial. Your attorney should:
Keep you updated at every stage

Make the process as transparent as possible

Be able to explain complex legal concepts in easy-to-understand language
Availability: Responsiveness and availability are paramount in an attorney. They should be:
Accessible for any questions or concerns you might have

Ready to respond swiftly, given immigration cases often involve time-sensitive procedures
Reputation: A reputable immigration attorney is worth their weight in gold. Make sure to:
Check online reviews

Ask for references
Look for an attorney who can provide positive testimonials from previous clients
Quality legal representation can make a world of difference in your immigration case. You need an attorney like those at Jimenez Mazzitelli Mordes, who are steeped in Immigration Law in New York, dedicated to your success, and ready to provide personalized, compassionate service. With the right counsel, navigating challenging immigration waters becomes less daunting.
Free Consultations
No Fees or Costs Unless we Win your Personal Injury Case!